Way Out West is a song from An American Tail: Fievel Goes West, sung by animals on the train headed from New York to Green River. The song is about how much better things will be in the West than they were in New York. It can be seen as the sequel's equivalent to There Are No Cats In America.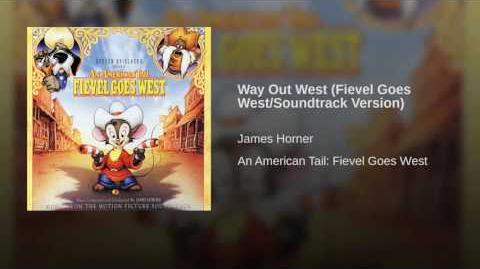 Lyrics
Opera Mouse: Life in New York City
Is full of dread and fuss
Our dreams are waiting way out west
There's room for all of us
Mr. Whiskers: The streets are paved with nuggets
All of the purest gold
And soon we'll all be millionaires
Male Mouse: Boy, have I been told
New Yorker Mouse: No garbage and no landlords
Fouling up the air
Opera Mouse 2: No crooks or politicians
To strip our cupboards bare
Educated Mouse: We'll ride the roaring rivers
Turn wilderness to towns
Our dreams will take us up and up
And never let us down, oh
ALL THE ANIMALS (& cats)': Way out west
There's room for our dreaming
There's wide open spaces to see
Way out west
The sun's always beaming
We'll be everything we can be
Mouse With Accent: The nights are filled with dancing
Lasting till the day
Days are filled with singing
Work is just like play
Goofy Mouse: We'll banjo!
Goofy Mouse 2: We'll fiddle!
Goofy Mouse 3: We'll guitar!
Deep-Voiced Mouse: We'll spoon!
ALL THE ANIMALS (& cats): And everywhere we go, we're gonna play this rousing tune!
'Cause way out west
We'll build our new nation
We'll grow all the way to the sky
Way out west
There's all of creation
We're new and we'll never say die
Way out west
We'll build our new nation
We'll grow all the way to the sky
Way out west
There's all of creation
We're new and we'll never say die
Notes