Welcome
Hi, welcome to An American Tail Wiki! Thanks for your edit to the Cat R. Waul page. If you need help, read through our help pages or contact a local admin. If there are no active admins here, stop by Community Central and check out our forums.
Looking for live help? Then join us for an upcoming webinar to chat with staff and other Wikia editors. You can also check our Staff blog to keep up-to-date with the latest news and events around Wikia. Lastly, check out the Wikia Video Library, where you can find premium licensed videos to add to the wiki.
All of these links are a great way to start exploring Wikia.
Happy editing, Sannse (help forum | blog) 10:04, October 13, 2013 (UTC)
Hey, I just made Don Bluth page for you. I like how you made your articles. If you need me, my name is Smartdart2.
From,Smartdart2 (talk) 23:24, February 21, 2015 (UTC)
Hey,  I've edited Moe's Sweatshop for you. I think it still needs more editing. Well, if you need me message me in anytime.   Love ya.
From,Smartdart2 (talk) 20:47, July 19, 2015 (UTC)
P.S. Thank you for improvements when I made something, I'am happy about it. 
Okay, this is how to put pages in the categories (or subcategories). 
First you click "Add Categories", then you type (Advertisments,movies,actors or tie-in,etc), if those pages are exists.
And after that they tell where they start (ex. Cathianne Blore goes to C in Actors category and you have completed your editing.
The question is I might add pages in this categories.
From,Smartdart2 (talk) 15:32, July 20, 2015 (UTC)
P.S. Thank you for offering me, and I very appereciated that for asking questions. Thank you so much!
Adoption
Hi. I've given you admin and bureaucrat rights on this community as you requested. You now have the tools you need to clean up, customize and maintain the wiki.
Check out

Wiki Features

to see which features you can enable (or disable) on your wiki, including chat, forum, and many more. If you have adopted an older community with talk pages you can also enable message walls and article comments here.
Customize your community''s look by visiting the Theme Designer, where you can add color and style to your background and wordmark for your desktop visitors.
Customize the mobile home page and convert infoboxes to the new portable infobox format for your mobile device visitors.
Look through the various useful reports available at Special:Insights including popular pages, uncategorized pages, and wanted pages for ideas on ways to improve your community.
Stop by Community Central to stay informed through our staff blog, ask questions on our community forum, or chat with fellow Wikians.
Lastly, visit our help pages to learn the ins and outs of using Wikia, including tips for managing your community, how to attract contributors, and how to add other admins.
Check out your Admin Dashboard, which can by found by clicking "Admin" on the bottom toolbar -- it has links to all your new tools. Please let me know if you have any questions, and good luck with your new (old) wiki! -- Wendy (talk)  02:50, July 20, 2016 (UTC)
Congrads on becoming the new owner of American Tail, could you do me 2 favors. 1.) Could you make me an owner or co-owner so I could help out tweak the skin and develop policies for the wiki? 2.) Crocodileman (previously known as CampbellTheGreat) has been posting fan-fiction on other wikis and we had to deal with this a year ago and needs to be supervised to ensure he doesn't do the same stuff here when he comes back. If he posts fan-fiction, block him from the site.--Muzzarino 11:40, July 20, 2016 (UTC)
I just love it
Beetles Concept Drawing
Hi, I was wondering where you got the concept art of the beetles in the sewer because it was very interesting. Is there more concept art of the movie on the same page?

DisneyTriviaBuff (talk) 07:15, March 7, 2018 (UTC)
Dear Masked Bard
I just wanted to thank you for getting rid of unwanted pages like "New York Yankees" and "New York Giants". I mean seriously, who in a right mind want to create pages that doesn't involved the American Tail franchise at all? This Wiki is strictly about the franchise and I'm a respective fan of that.
Here's a fan art of mine. Tony's my favorite.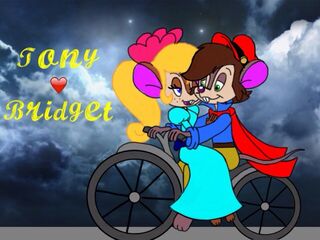 From,Retrosunshine2006 (talk) 20:30, October 11, 2018 (UTC)

Nice art! Yeah if I would have noticed those pages sooner I would have deleted them sooner. I guess I'll leave the Universal Studios and NBC corporate pages alone for now because they sorta pertain to An American Tail a little bit...but it went too far with the sports teams, I mean come on. 
Masked Bard (talk) 02:52, October 14, 2018 (UTC)
I have a question.
On Tanya Mousekewitz's page, I've read that the infamous third installment was defrocked. Is that true and how? Retrosunshine2006 (talk) 16:57, October 30, 2018 (UTC)
Never mind. I just now found out. The character, Cholena, was considered an issue since Tanya Mousekewitz was supposed to be the main heroine of the American Tail franchise and Tony Toponi (who is my favorite in the franchise) was supposed to have a relationship with Bridget. Since she is unpopular in the franchise, she remains defrocked from the franchise, which is another word for "explicitly dismissed from canon". The fourth movie is considered more properly written, as Tanya is restored as the main heroine, as well as Tony doesn't flirt with other female mice, realizing how well-regarded his relationship with Bridget is (I always thought their love was so beautiful on the generally acclaimed original film).
I know there technology won't be anymore An American Tail movies made. If I was working on a film based on the franchise, I would keep things straighter, as not making the mistakes like the director did on the infamous third installment. I personally wished the third movie was a dream and not the Fievel Goes West, even though I personally couldn't stomach the second film, at least Tony still has Bridget in his life.
I hope I'm not a nuisance to you. I just like proper writing in films, as well as political correctness. Retrosunshine2006 (talk) 04:41, October 31, 2018 (UTC)

What was the source you were using on that? The direct to video movies are obscure as it is, I'm not certain Cholena was "removed from canon" due to any signifiant fan outcry that Universal would have even paid any attention to. The direct to video sequels were being made at almost the same time too, not really enough time for them to gauge the fan reaction before starting the next film. I mean just because Warren, Gussie Mausheimer and Honest John weren't in the sequels doesn't mean they aren't canon. I also never really saw Tanya and Cholena as conflicting one another, they're just two characters that happen to both be female. Would Nellie Brie have been trying to take the main heroine spot from Tanya in the fourth movie by that logic? I'm just not sure the recent edits on the wiki on this topic have any real basis on fact.
Masked Bard (talk) 21:33, October 31, 2018 (UTC)
I'm not the one who first mentioned that, but if you could go to Jeff Meredith (who originally put that on Tanya's page according to page history), maybe he could give you the answer. Maybe he knows about that issue. As for Nellie Brie, I don't think she took over Tanya's role, and the other cast, like Gussie Mausheimer, Honest John, and others, I think they were meant to only appear in one film or because of voice actor issues, like Wylie Burp and Bridget. Usually, I would never vandalized pages on Wikia, but just trying to find proper source material. I'm more of a respective editor and a fan of the franchise, along with Disney's Frozen. Retrosunshine2006 (talk) 22:37, October 31, 2018 (UTC)
Masked Bard, I just talked to Retrosunshine2006 and she said she'll be taking a break for a while. She said she might get block if something went wrong. Maybe one day, you might help her out. Thank you. SierraJames46 (talk) 00:29, November 1, 2018 (UTC)
I am sorry if I sounded too harsh Retrosunshine2006, I wasn't trying to sound harsh, you are anything but a vandal and your imput is most welcome on this wiki. I wouldn't think of blocking you. I do hope you'll reconsider taking a break. I feel a bit bad now. I mean I generally agree with you that Tony and Bridget are the better pairing and what occurred in the 3rd movie was a bit of bad writing (now if they'd maybe developed a sort of innocent romance between Cholena and Fievel instead, and at least mentioned Bridget if not actually showing her, that would have been better). But at any rate, please don't take my critique the wrong way. You're a wonderful contributor and editor.
Masked Bard (talk) 14:11, November 1, 2018 (UTC)
Masked Bard, thank you very much for the kind and beautiful words. I feel better now. Retrosunshine2006 (talk) 17:04, November 1, 2018 (UTC)
You're welcome, I don't want you to feel unwelcome here of course. And you've made the wiki a better place since you arrived too! Good to have a fellow Tony fan around (he's my second favorite behind Fievel, and his mostly-absence from the second movie is why I didn't like it much as a kid, lol)
Masked Bard (talk) 03:22, November 2, 2018 (UTC)
Remember me?
Hi, You May remember me, PurpleBeauty97 on DeviantArt, I just thought I'd catch up with you,
I just thought I'd let you know that I've finally seen ALL 4 American Tail films,
Now, if you read my announcement from May 31 2018, (My dad's better now, even though he's still deaf in one ear), you'll see how I eventually managed to switch from "Back to The Future" (1985) to "An American Tail: The Treasure of Manhattan Island" (1998): https://www.deviantart.com/purplebeauty97/journal/Dreadful-News-747547301?offset=0#comments
And also, I managed to get my dad to order "An American Tail: The Mystery of The Night Monster" (1999) from Blackpool on eBay when I was visiting my amma (that's grandma in Icelandic, since I was descended from Icelandic farmers and fisherman) and you'd be amazed by this other long story about my deseased grandad's Old Hornby Train Set (I'll tell you more about it soon, when I have the time)
And on the way back from a horrendously packed Virgin Pendalino Train service all the way home the 4th American Tail film had arrived just in time, and I watched it with my mum, and we both enjoyed, and now Nellie's now one of my favourite characters ever
Check out my video here, Hopefully it'll be visible to you regarding 3rd Party Rights: https://www.deviantart.com/users/outgoing?https://youtu.be/UKgmz610m9E)
Now, correct me if I'm wrong, I take it that you're the other name of Surenity if I've guessed correctly
Hope to see you soon Somewhere Out There
Owen Batchelor aka PurpleBeauty97 (My wiki account is above the message)
Nice to know you're doing well. I really haven't been on Deviant Art in the longestt time, I ought to go back. I will probably be on there a lot more once I finally get the webcomic I'm working on off the ground. Anyway, yes good that you've seen all four films now. They're not all equally good but I do like all four. I bet Iceland is nice by the way. Only other country I've spent a lot of time in besides the US is Armenia.
Masked Bard (talk) 15:42, March 1, 2019 (UTC)
Acknowledgement
I just wanted to apologize for the misinterpretation last year. You see, this one user, Jeff Meredith was the one that started the whole "dismissed from canon" thing in the first place. StefCW stated that the movie The Treasure of Manhattan Island is still part of the franchise's canon and Cholena is actually innocent, as there is no reliable source on her dismissal. StefCW also stated that it was the divisive writing that was criticized and not the character. Cholena isn't really a bad character, as I actually liked her. I think her appearance was bullied by Jeff Meredith, as some audiences liked her. Similar to Tony Toponi in Fievel Goes West, Tanya Mousekewitz's role was minor, as at the time there was yet any plans to give her a major role time in that film. I won't let no misinterpretation get in my way again. Besides, this wikia is about actual facts on characters and StefCW is an excellent editor on reliable sources, who helped me see the light on that. Retrosunshine2006 (talk) 07:26, March 1, 2019 (UTC)
The main possible reason for the absence of the third film's characters in the fourth movie, not only Cholena, but others like Mr. Grasping and such, was to avoid further controversy involving prejudism and political incorrectnesses. Look at Tom and Jerry Spotlight Collection. Warner Bros. refused to package "Mouse Cleaning" and "Casanova Cat". Even Disney won't release Song of the South due to racial stereotypes, which gained controversy upon its release. There are media consequences. Retrosunshine2006 (talk) 15:06, March 1, 2019 (UTC)

I understand. I've heard of fans that ignore the sequels and pretend they're not canon so maybe that was what Jeff was getting at, but of course there was no official dismissal by Universal Studios. One thing though, the two direct to video movies were released so closely together I am not certain they were able to make any decisions about the 4th film based on audience reaction to the 3rd. Particularly in the US, where they were released only a few months apart. Making an animated film takes at least a year, often longer. The 3rd film was finished by 1998 and the 4th by late 1999 when it was released in Germany, but then both films released in the US in 2000. Then again, not much is even known about the making of the films, unfortunately, so who knows what the truth is. It'd be great if someone could dig up an interview with the director or something. Maybe Universal did want them to do a safer plotline with the 4th movie. Maybe the corporate studio wasn't thrilled about the 3rd film's push for labor unions and worker's rights either, but that's simply speculation.
Masked Bard (talk) 15:59, March 1, 2019 (UTC)
Greetings! :D
Hello there Masked Bard! I am VillainNut but people call me Bobby G! ^^ It is a pleasure to meet you! I think I have seen you before back in the Myspace days! Were you the one who roleplayed as Fievel. I asked because I see the images you posted on Fievel's page that are very familiar. ^^ I was only a kid back then and I was not that great of a roleplayer. xDD I played as the Green Goblin but I was so out of character back then. I remember role-playing with a Fievel roleplayer on Myspace a while back. Oooh, boi! xDD So I roleplayed as Nuka for a long time. I got better at roleplaying nowadays and I am still a huge fan of The American Tail films! :) So, I wonder if you do remember me or not! ^^ :D Hope your day goes well, my friend. <3 VillainNut (talk) 08:09, November 22, 2019 (UTC)

I think I do remember a Green Goblin roleplayer from back then! Yes you found me out, I used to roleplay as Fievel on Myspace back in the day, in my teens/early 20's. I miss those days, Myspace was so much better than the other social networks. I took some good screencaps and made some good gifs back then, which are on display on this Fandom page so they didn't go to waste. I still have a Fievel account on Roleplayer.me if you want to find me there, but I don't roleplay much these days, but let me know if you'd like to roleplay, I'd be up for it. I still love the An American Tail films myself, they're still my favorite. ^^ (Masked Bard (talk) 20:14, November 25, 2019 (UTC)) 

I knew it was you! xDD It is awesome to see you again, man! :) And yes, I will love to do some roleplays sometime, for old memory sake. xDD I might make one for one of the characters from the American Tail film series, I just gotta think who I wanna do. xDD Maybe Cat R. Waul or Tiger. Who knows. LOL I'll think about it! :) But yes, I was a kid back in the Myspace days and I miss those days very much! ^^ I don't RP much anymore either, but I sometimes do it on occasion! ^^ VillainNut (talk) 02:29, November 27, 2019 (UTC)
Possible wrong page added
User Jaden,jaden added this page called We're Back! A Dinosaur's Story and it's not even part of An American Tail series. Could you please remove that page? I've placed candidate for deletion on category and a request for removal on top of the page. Retrosunshine2006 (talk) 01:01, June 16, 2020 (UTC)
I have a favor to ask
Can you make me an admin? I've done over 600 edits since 2018 as I am a faithful fan of the franchise, never once add false information. I wanted to make this wiki even better, as well as deleting unwanted pages that are considered false or not related to the franchise. Retrosunshine2006 (talk) 21:23, July 14, 2020 (UTC)
I was trying to add some forums, but since I'm not an admin, it won't let me. There are other pages, as some involving errors, I wanted to delete (some were created by accident as trying to do a forum). Please hire me an admin so I can clean house. Retrosunshine2006 (talk) 22:36, July 14, 2020 (UTC)
BTW, can you take care of the user Jaden,jaden? He's been leaving false information about An American Tail is owned by Paramount Pictures. Paramount never required rights to the series. He thinks this wiki is fan fiction. He once created the page "An American Tail (company)" which there is no such production studio, but I changed it to Rules for this wiki and replaced that phony baloney information he wrote with important rules to the editors because I am sick and tired of vandalisms/false informations to this wiki as things have got to be done right here (as a loving fan of AAT). I was trying to do "Forum:Rules for this wiki", but won't let me because I'm not an admin (wish I was). Retrosunshine2006 (talk) 03:42, July 15, 2020 (UTC)
How to make an user an admin
I'm glad you asked. Well, I've open my wikis, such as Rick Reinert Wiki, and I've learned about these things. Go to Special:AdminDashboard, then go to Special:UserRights, and then choose who to admin, as it will give you a list. Retrosunshine2006 (talk) 20:59, July 16, 2020 (UTC)
Do you know who the founder of the wiki is I can't find anything showing show the founder was and can you try to contact cartoonfan I asked her a question but she hasn't answered it
Ekebraska4 (talk) 02:24, December 15, 2020 (UTC)Raymon/ EkeraksaEkebraska4 (talk) 02:24, December 15, 2020 (UTC)
He or she must be buried under a list of people and I dobut anyone's gonna find him or her but I'm still interested if you can get cartoonfan to ask my question is that or I'll ask sunshine it because tonys their favorite 
Ekebraska4 (talk) 08:00, December 16, 2020 (UTC)Ekebraska/RaymonEkebraska4 (talk) 08:00, December 16, 2020 (UTC)
The talk pages are now almost completely useless due to my work on the official American Tail talk website that supports groups and role-playing groups with a smart log in system you can see that a website like that should have been made a long time ago
and I must say that you and retrosunshine are invited to your it it's quite basic but pretty interesting - Ekebraska oh and if it's good enough please link it in the home page https://residentey3.wixsite.com/anamericantail there's the link
American Tail Discord Server
ok so i made a american tail discord not uh sure if your respond or join it but heres the link https://discord.gg/ayE26CKD i thought it would be a great idea if i made one - Rebecca, Rossi - 2022