Jurassic World: Dominion Dominates Fandom Wikis - The Loop
Play Sound

The Legend of Mouse Hollow is the 6th episode of Fievel's American Tails, directed by Larry Jacobs and written by Hank Saroyan and J.R. Young.
Plot
The episode starts out with Mama making a dress for Tanya because the school play is coming up. The play is The Legend of Mouse Hollow, essentially a mouse version of The Legend of Sleepy Hollow. It is revealed that Fievel's part in this play is a mushroom. Fievel hates the outfit, and the idea of putting on a play, but he's forced into it. The next day at rehearsal, Tanya sings Dreams to Dream, much to Fievel's dismay, and Cat R. Waul happens to overhear. The tune gives him an evil idea. He decides to put on a show of his own with Tanya as the main attraction, and when the mice arrive, he plans to feed them into a machine that will package them and send them on a train to hungry cats across America.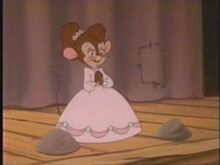 On their way back home Fievel and Tanya are confronted by Waul, who claims that despite his evil cackling he only wants to be friends with them, and he pitches the idea of Tanya performing in his show. Just then their teacher Mr. Ironside shows up and shoos the children off, reminding them that they're performing in the play. He then mentions going to Grizzly Gulch to find wood for use as props in the play. The scheming Waul comes up with another plan, to get Mr. Ironside out of the way. At Grizzly Gulch he dresses as the Headless Horseman and scares Mr. Ironside into Waul's special packaging machine. Once the teacher is packaged up, Waul tosses the box into a hollow tree trunk and goes on with his plan. The next day when Fievel and Tanya get to school, they see a note on the board saying that the play is cancelled. Fievel is thrilled, but Tanya is saddened. As she's walking home from school, Waul approaches her again with the idea of singing in his play. She agrees. Meanwhile Fievel and Tiger go to Grizzly Gulch to play, and they find Mr. Ironside, who tells them about Waul's plan. Mr. Ironside teams up with Tiger and Fievel to foil Waul's plan. Waul had the trap set up next to the train as Tanya sang Dreams to Dream, when she was done, the mice would be fed through the machine and packaged. However, Tiger dresses as the Headless Horseman and scares Waul and Chula into the machine themselves, and they are packaged and taken away by the train. Once Tanya's song ends, Mr. Ironside announces the play is back on, and everything goes as planned. Well, almost everything. Papa assures Fievel that one day he'll play a much bigger role than a mushroom, and Mr. Ironside says that Fievel already has.
Trivia and Goofs