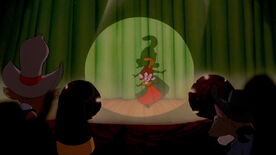 The Girl You Left Behind is a show tune sung by Tanya Mousekewitz, during her debut at Cat R. Waul's saloon. Initially, the cats are skeptical about a mouse performer but take such a liking to this song that they become instant fans of Tanya. During the song, Tanya inadvertently rescues Fievel from a jar by shattering it with her voice, and while she sings Fievel tries to get away from Chula.
The official soundtrack to An American Tail: Fievel Goes West includes a version of this song without the sounds of Fievel's struggle with Chula in the background or the a-cappella vocal intro that Tanya barely even gets out of her mouth initially, but eventually wows the audience with. The song was performed by Cathy Cavadini.
Lyrics
Tanya: [faltering] Do... do you ever miss...
[growing stronger] Do you ever miss the girl...
[holds strong soprano note] you left behind?

Is the girl you left behind out there tonight romancin'?
Makin' eyes at someone else and singin', is she dancin'?
Oh, the girl you left behind, you dream 'er when you're sleepin'
Puts the teardrops in your eyes from secrets she is keepin'
Happy just to play a tune and dance the whole night away
Hope the girl you left behind will be there for you someday
Lonely is the wind that blows, you know you'll always miss her
Lonely is a lover's heart, if only you could
Kiss her, kiss her, kiss her

All the girls been leave'd behind could fill up California
Please don't leave them too darn long, I think I oughtta warn ya
Absence makes the heart grow cold and makes a heart to wander
If you stay there by their sides, you'll feel their hearts grow fonder

Cats: Hope you see her someday
Hope I find my way
Back to the girl I left behind

Tanya (& cats): So tell me you will never roam
(We swear we won't go roaming)
You'll be by your fireside
(We'll all be home sweet home and kiss her, kiss her, kiss her)

Tanya: So where's the girl you left behind?

Cats: She's waitin' for her sister
We won't stop until we're home we'll hug and hug and kiss her

I'll find the girl (×4)

All: You'll (I'll) find the girl
You'll (I'll) find the girl you (I) left behind
Tonight (×3)!
That's right
Alright!