That's What Friends Are For
Season 1, Episode 12
Written by
Hank Saroyan and J.R. Young
Directed by
Larry Jacobs
Episode guide
Previous
Aunt Sophie's Visit
Next
Bell the Cats

That's What Friends Are For is the 12th episode of the series Fievel's American Tails. It was directed by Larry Jacobs (as Lawrence Zelig Jacobs), and written by Hank Saroyan and J.R. Young.
VHS Summary
"When Tiger misunderstands a conversation, he mistakenly thinks he's a bad influence on his little buddy Fievel. When Fievel tries to play with him, Tiger pretends to like that low-down spider Chula instead, leaving poor Fievel all on his own. But when Cat R. Waul mouse-naps Fievel, Tiger realizes his mistake and sets out to rescue the best friend he ever had!"
Plot
When Fievel gets a new bicycle, he causes chaos throughout Green River as he doesn't know how to control it. Tiger runs after him as he careens down the streets, and almost runs into Mr. Ironside, who warns that Tiger is going to get Fievel into a lot of trouble. Meanwhile Papa goes to the store to pick up some groceries, and Cat R. Waul spies him from afar. He asks Chula to go fetch Papa for him to eat, and Chula chases Papa into an alley. Just when it seems Papa is trapped, Fievel flies over the fence on his bike, out of control, and Chula runs. Fievel decides to chase Chula on his bike, until Chula jumps into a troth and Fievel crashes into some boxes in front of Mr. Schimmel's store. Fievel gets away before his Papa and Schimmel come out of the store, but they see Chula walking away, and blame the whole thing on him, saying "that cat is a bad influence on him". Tiger overhears as he's hiding, and thinks they're saying he's a bad influence on Fievel, and that they need to be separated. Fearing this, he begins to avoid Fievel, making Fievel sad.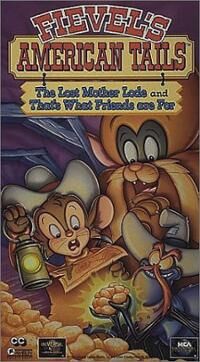 Meanwhile, Waul announces he's leaving town to visit a friend for a few days, leaving Chula alone. Chula gets lonely, and begins looking for someone to befriend. Eventually he finds Tiger, and entices him with a ball of yarn. When Fievel finds them, Tiger says he no longer plays with "furballs", hurting Fievel's feelings, and then leaves. Chula offers to play with Fievel instead, and Fievel teaches Chula how to ride a bike. After Fievel goes home Chula finds Tiger and they play with yarn again, before Waul returns. Chula goes with Waul, and after Waul learns that Chula has befriended Fievel, he decides to use that to his advantage. Meanwhile, Mama encourages Fievel to talk to Tiger and find out why he's been avoiding him, but when Fievel approaches Tiger's wagon, Tiger tells him to go away. Fievel then finds Chula, who encourages Fievel to play "hide and seek"; instead leading Fievel into a trap where he is captured by Waul. Waul and Chula take Fievel to their hideout where they plan to eat him, but are interrupted by Tiger who wanted to hang out with Chula. Waul shoos Tiger out the door, but after leaving Tiger hears Fievel's voice, and comes back to rescue his friend. He slams Waul with the door and hangs him up by his cape, and then Fievel uses yarn to hog-tie Chula and hang him next to Waul, and they leave. When Papa and Schimmel find Fievel and Tiger, Tiger explains why he's been avoiding Fievel, and they explain that Tiger misheard them. With all right once again in their friendship, the episode ends with a short montage of Fievel and Tiger hanging out and having fun together.
Trivia and Goofs
An animation error in one scene makes Tiger look as big as a human that passes by next to him.
Chula acts somewhat out of character in this episode, while Fievel seems to have forgotten all Chula did to him in Fievel Goes West.
Papa is called "Bernie" twice in the episode, short of course for Bernard.