Jurassic World: Dominion Dominates Fandom Wikis - The Loop
Play Sound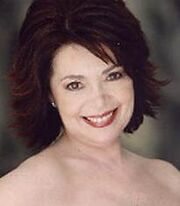 Susan Silo (born July 27, 1942 in New York City, New York) is an American singer and actress who is known for her work in voice over roles.
Early life
Susan Silo was born in New York City, New York. Both her parents are actors.
Career
Her acting career started in television on the episode "The Dick Clark Show" of The Jack Benny Show. Silo co-starred with Larry Blyden, Dawn Nickerson, and Diahn Williams in the NBC sitcom Harry's Girls, about a vaudeville troupe touring Europe.
She also made guest appearances in episodes of numerous TV series, from the 1960s to the 1990s, including Alfred Hitchcock Presents, Hawaiian Eye, McHale's Navy, Route 66, Gunsmoke, Bonanza, Have Gun Will Travel, The Many Loves of Dobie Gillis, Sea Hunt, Ripcord, Hazel, Combat!, Batman, The Man from U.N.C.L.E., The Love Boat and L.A. Law. In 1964, Silo appeared in an episode of Jack Palance's The Greatest Show on Earth. She also played Rita Lane on Gunsmoke in 1969.
Susan Silo is a successful voice-over actress, and she teaches workshops in this field and lectures all over the country. She, also, is a successful singer, which she has brought to her work in cartoons. Silo began her voice-acting career as a talking cow in a series of Land O' Lakes Margarine commercials for over ten years. Besides, she has done animated cartoon voices for Hanna-Barbera, Marvel, Disney, Ruby-Spears, DIC, Film Roman, Murakami Wolf Swenson and many others.
Her famous roles are Wuya the Witch in Xiaolin Showdown, Dr Karbunkle in Biker Mice from Mars, White Queen on Pryde of the X-Men, multiple voices on What A Cartoon, Sue on Pac-Man and Tess on Zazoo U. She also played the roles of Mama Mousekewitz in Fievel's American Tails and Petaluma in The Smurfs.
She has also done voices for video games, such as Crash Tag Team Racing and X-Men (arcade game), where she reprised the White Queen. She later voiced Auntie Roon on The Life and Times of Juniper Lee and Flamestrike in Dragonlance: Dragons of Autumn Twilight in 2008.
In 2009, she guest starred as the cat empress Neferkitty on The Garfield Show, episode "The Curse of the Cat People" and reprised the character in 2012, in the episode "Revenge of the Cat People". In 2014, Silo played Yin on Nickelodeon's The Legend of Korra.
Personal life
Silo was married to actor Burr DeBenning, who died in 2003.
External links