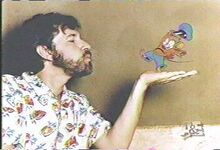 Produced: An American Tail and An American Tail: Fievel Goes West
Born: December 18, 1946
Other Works: Back to the Future, Jurassic Park, Indiana Jones and the Raiders of the Lost Ark, Jaws, E.T., Tiny Toon Adventures, Animaniacs, Close Encounters of the Third Kind, Who Framed Roger Rabbit, etc.
Biography
Steven Spielberg is a world-famous director and producer, and has helped create some of the most acclaimed and remembered films of the past 40 years. He first hit it big in the 1970's with Jaws, and his momentum from that carried him into the 80's with hits like E.T., Raiders of the Lost Ark and Back to the Future. In relation to An American Tail, Spielberg became interested in dabbling in animation because he had always been a fan, and after seeing The Secret of NIMH and being impressed by it, he contacted Don Bluth to create An American Tail. During the production he had to learn how different producing animation was from producing live action, stating in an interview, "Before this, I had been a bottomless pit of appreciation for animated films, without knowing what went into making them. At this point, I'm enlightened, but still can't believe it's so complicated." But, with the combined efforts of Spielberg and Bluth, An American Tail became a hit. He and Bluth would strike gold again with The Land Before Time, a movie that would break An American Tail's box-office record. Afterward, Bluth and Spielberg parted ways, due to creative differences which haven't been made public. Neither of them would quite reach the same level of success when it came to animated movies after parting ways though. Spielberg then formed Amblimation , an animation branch of his production company Amblin, and their first animation project was An American Tail: Fievel Goes West. Don Bluth was busy with Rock-a-Doodle at the time, and one can presume FGW's lighter tone is because of Bluth's absence. Amblimation would go on to create We're Back: A Dinosaur Story and Balto before shutting down. Spielberg is now behind much of Dreamworks' animated output when it comes to the field of animation, and of course, he had quite a number of very successful live action films after An American Tail too, far too many to list.
A fun little trivia fact: Fievel is named after Steven Spielberg's grandfather.