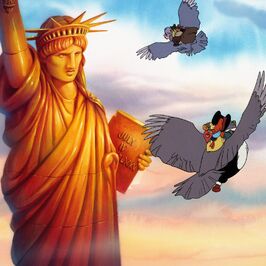 The Statue of Liberty plays an important role in An American Tail. When Fievel Mousekewitz washes ashore on Ellis Island, the enormous statue is still under construction. Overseeing its construction is the French pigeon Henri (an allusion to the fact that the statue was a gift from France to America). It symbolizes hope, something Fievel will need as he looks for his family. Made of copper, it still has a golden yellow color to it. In real life it was this color when it was first built, but slowly rusted into the green color we see today. The statue is briefly shown in the middle of the film, when Gussie Mausheimer says during her rally against the cats that it symbolizes freedom. At the end of the film, Henri takes the Mousekewitz family and Tiger to see the completed statue, and as Fievel and Tanya look at it, they see the statue wink at them, just before Fievel looks to the west and wishes to go see more of America.
The statue appears again in An American Tail: The Treasure of Manhattan Island, where during a brief montage we see Fievel and Henri taking Cholena to see the statue, which has already rusted to its modern greenish color (making it historically inaccurate, as this didn't happen until after 1900). The statue is the last shot before the credits in An American Tail: The Mystery of the Night Monster, perhaps as a reference to it being the final movie of the series.
The Statue of Liberty was completed in 1886, the same year the first film takes place; in fact An American Tail was partially released in celebration of the 100th anniversary of the statue.
Gallery