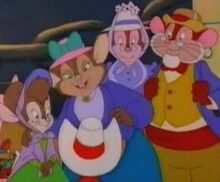 Sophie Mousekewitz is Papa's lovely sister and Mama's sister-in-law. She's Tanya's, Fievel's and Yasha's aunt, who still lives in Russia. She appeared one episode in Fievel's American Tails, in Aunt Sophie's Visit. Sophie and Bernard lost their parents at young ages, leaving them survivors and orphans. She visited Green River to see her brother, sister-in-law and her 2 nieces and 1 nephew. She went shopping with Fievel to get cowgirl clothes (while Papa forbids Fievel to wear cowboy outfit). Fievel rescued her from Chula the Tarantula and Cat R. Waul. She also went to the rodeo to watch Fievel riding on a prairie dog. So unlike Papa was making her out to be, she has a pretty laid back personality and lets Fievel do what he wants, and be himself.
Trivia
She only appears in one episode, and is never mentioned again. Due to the retconning of Fievel Goes West, her existence is considered vague.
She has one brother (Papa Mousekewitz), but cats killed their parents, as mentioned in the song "There Are No Cats in America".
She stayed behind in Russia while Papa moved his family to America.
She gave Fievel a handsome outfit when he was little, but he doesn't like wearing it.
Sophie's name is about the same as Miss Kitty's, except Kitty's name is spelt as "Sophia" ("E" replaces "A" in the end).