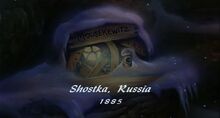 Shostka, Russia was the former home of the Mousekewitz family. It is where Fievel and Tanya grew up as children. Shostka is a real city, which today, is a part of North-Eastern Ukraine but was part of the Russian Empire in the 1880's.
Shostka, Russia is only seen in An American Tail, at the beginning of the film, sometime in December 1885. It seems to be a quaint, snowy town. The home of the Moskowitz family is accompanied by the home of the Mousekewitz family just underneath the floorboards. It can be presumed the Moskowitzes are human versions of the Mousekewitzes. Later on during the song "There Are No Cats in America", Papa reveals that he left the city of Minsk with his family at an early age, but was orphaned along the way by a cat attack, and this is possibly when he settled in Shostka. However, their home is quickly destroyed when the human Cossacks and Cossack Cats attack the village via one of Tzar Alexander III's anti-Semitic/anti-mouse pogroms, reducing at least a significant section of the city to burning ruins. This draws upon events that happened in real life.
Community content is available under
CC-BY-SA
unless otherwise noted.