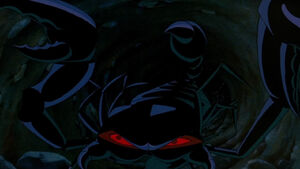 The Scorpion is a bug in An American Tail: Fievel Goes West that attacks Fievel Mousekewitz when he's fleeing a hawk. Fievel hides in its den, only to see its red glowing eyes in the darkness. The scorpion tries to stab Fievel with its stinger several times until Fievel is picked up and carried away by the hawk. 
Role in the Film
The scorpion appears only briefly, and like the hawk, is supposed to illustrate to the viewers the dangers of being a small mouse lost in the desert at night. While in the first film Fievel was mostly only threatened by cats, out in the desert there are many creatures that would hunt him.
Gallery
Community content is available under
CC-BY-SA
unless otherwise noted.