Jurassic World: Dominion Dominates Fandom Wikis - The Loop
Play Sound
Reading is Fundamental (whose website can be found here ) is a nonprofit organization which combats illiteracy in children, and in 1991-1992 used Fievel Mousekewitz as their mascot and "spokesmouse". This resulted in the creation of magazine advertisements, a PSA that was aired on NBC, a book called Fievel's Big Showdown, and brief PSA's at the end of episodes of Fievel's American Tails .
The Primetime PSA on CBS
The most famous PSA to come out of Reading is Fundamental's tie-in with An American Tail was broadcast on CBS in November of 1991, after an airing of E.T. the Extraterrestrial. In this, a typical early 1990's family has just finished watching the movie, and the father tells his kids that its time for bed. This is interrupted by the little girl spotting Fievel running from out of a mousehole. Fievel (voiced by Phillip Glasser and consisting of recycled animation from Fievel Goes West that doesn't match what he's saying) tells them about Reading is Fundamental and their "Reading Buddies" program, urging the children to read. The family is baffled by the appearance of Fievel, but seem to go along with it, with the father remaining skeptical throughout, and really wanting his kids to go to bed. After avoiding being eaten by the family cat, Fievel directs the family's attention to a portrait on the wall, which suddenly becomes a TV screen showing a re-worded version of "A Duo" sung by Fievel and Tiger from the first An American Tail, encouraging the children to read. Fievel then changes the channel on the family's remote, and their TV is taken over by different celebrities, such as Will Smith, who tell the family to read. And finally, E.T. himself commands them to read. And when Fievel, Will Smith and E.T. all tell you to do something, of course you'd better do it. 
Other Tie-Ins
Nabisco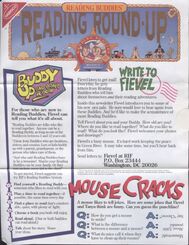 Nabisco had an exclusive deal with Reading is Fundamental at the time Fievel Goes West premiered in theaters. As stated in an article by the New York Times on November 22, 1991:
"The results, we find, are very effective," Jeff Myers, Nabisco's senior director of integrated marketing programs, said in a telephone interview from his office in Parsippany, N.J. Nabisco's program ties in with the nonprofit Reading Is Fundamental Inc. organization, which is using Fievel, the mouse that stars in "An American Tail," in a Reading Buddies project intended to encourage children to read.
"We're optimistic that Fievel will become larger than mouse," Mr. Myers said. Nabisco will mail consumers Reading Buddies kits, featuring Fievel, in exchange for proofs of purchase from cookie and cracker packages.
Reading Buddies PSA segments were included at the end of each episode of the short-lived series Fievel's American Tails. Information on these is scant, because they were not preserved on the VHS releases, and thus were only ever seen during the original TV airings. Very few recordings exist or even survive, so we may never know what these long-lost and forgotten spots depicted during their short lifetime. Apparently in one segment, Fievel teaches Yasha to read; some model sheets exist from this particular segment. Another one features Tanya reading "The Itsy Bitsy Spider" to Yasha, while Chula reenacts it to their amusement (this one has made it onto Youtube).
Fievel's Big Showdown
In February 1992, Fievel's Big Showdown, a children's book by Gail Herman, was published. All profits from the book went toward Reading is Fundamental. The summary of the book is as follows:
"Even though his sister Tanya and their friends call him a "fraidy" mouse when, absorbed in the book he's reading, Fievel refuses to explore a scary old house with them..."
Apparently, Cat R. Waul gets involved, cooking up a scheme taken from the same book Fievel is reading.
References