Orphan Alley is an area in New York that only appears in An American Tail, where homeless mouse orphans gather in makeshift shelters. Though referred to as an alley, it appears more like a vacant lot of sorts, filled with garbage. Fievel ends up here after fleeing the fire at the pier. He then meets The Bullying Orphans, who make him lose hope of ever finding his family. Fievel makes himself a bed in a puddle with some straw, and cries himself to sleep as rain pours down. With daybreak though, the clouds part and Fievel's family comes to find him. They then have their heartfelt reunion among the garbage and debris in the alley.
Of note is that the background orchestration for the Orphan Alley scene provided James Horner the inspiration for the tune to Dreams to Dream.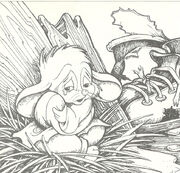 Community content is available under
CC-BY-SA
unless otherwise noted.