Jurassic World: Dominion Dominates Fandom Wikis - The Loop
Play Sound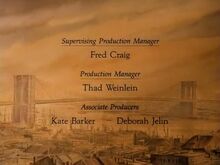 "And so, Fievel, Tiger and the entire Mousekewitz family all lived happily in New York. Uh, for as long as one can live happily in New York."
-Narrator, An American Tail Theatre
New York City is a location in all four movies in the An American Tail series. It is the entry point for immigrants coming from Europe, making it very multi-cultural. It is unfortunately a difficult place for mice to live, being controlled by cat gangs, crooked or ineffectual police, and sweatshop owners. It is plagued with poverty, and as evidenced by Orphan Alley, a lot of mice are homeless. It is such a big city that when Fievel was separated from his family it took the whole movie for him to find them. Conditions improve after the Mott Street Maulers are sent to Hong Kong, but in the sequels, they are only replaced by villains who are just as bad.
The Mousekewitz family starts out living in a discarded purse in the first film. In the direct-to-video sequels the Mousekewitz family lives in their own house within a special enclosed neighborhood in New York that is protected from cats; this is destroyed at the end of An American Tail: The Mystery of the Night Monster by Madame Mousey's Night Monster machine, resulting Universal Studios wanted to end the film series as soon as possible. In An American Tail: Fievel Goes West, the Mousekewitz family is impoverished and living in a barrel in an alley. Pollution, lack of job opportunities, rude neighbors, noise and finally a cat attack force the Mousekewitz family to relocate to Green River. Unfortunately, this future concept remains unclear since it was retconned in An American Tail: The Treasure of Manhattan Island, as according to the first number in said movie, they'll be staying in Manhattan.
Locations in New York
Hester Street
The Market
Tammany Hall
Mausheimer Park
Sewers and the Mott Street Mauler's Hideout
The Pier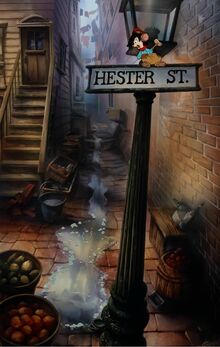 An American Tail: The Treasure of Manhattan Island
Enclosed Mouse Neighborhood
Beach Pneumatic Railway
Underground Lenape Hideout
Coney Island

An American Tail: The Mystery of the Night Monster
Abandoned Mansion
Central Park
An American Tail: Fievel Goes West
Alley Mouse Neighborhood (on Hester Street)
Grand Central Train Station