Jurassic World: Dominion Dominates Fandom Wikis - The Loop
Play Sound
Nellie Brie has been classified as one of the best articles made for the An American Tail Wiki community. Please feel free to contribute.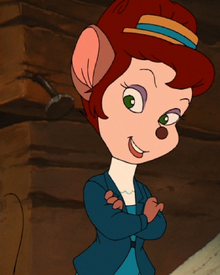 Nellie Brie is one of the main characters in An American Tail: The Mystery of the Night Monster. She is a well-known investigative journalist who works for The Daily Nibbler. She sings two songs in the film; "Get the Facts" and "Who Will". She is voiced by Susan Boyd.
Bio
Earlier in the film, it was suggested that she specializes in undercover reports like one in which she exposed a sweatshop. Tanya takes Fievel to see her because he's having nightmares about the Night Monster. She didn't believe the Night Monster was real when the story began to take off in the newspapers, but her editor Reed Daley forced her to report on it, and to take Fievel as an assistant. She and Fievel throughout the whole film go around New York finding clues about the Night Monster. She tells Fievel to not let the fear win and that "once you find the facts about something scary, it helps make the fear go away". She has a love/hate relationship with Reed Daley throughout the film, explaining to Fievel that the reason he's sarcastic to her is because he's "crazy about" her. At the end of the film she ends up dating Reed Daley, breaking Tanya's heart (who had a crush on him).
Trivia
She is modeled after Nellie Bly, a real life reporter from the late 1800s who much like her animated counterpart was famous for doing undercover reports, such as checking herself into an insane asylum in order to expose the cruel treatment of patients.
Her catchphrase is "Only fools are fearless".
Her voice actress Susan Boyd is a singer and also lent her voice to singing "Gee Baby Ain't I Good To You" for the film The Mask. She was also the voice of Daisy in the film Rover Dangerfield.
Nellie Brie speaks with a Mid/Trans-Atlantic accent, similar to legendary actress Katharine Hepburn.
Gallery
You can find Nellie Brie gallery here