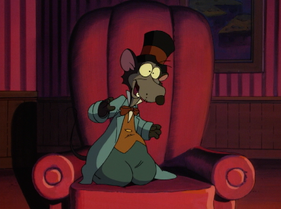 Mr. O'Bloat
is one of the two secondary antagonists in
An American Tail: The Treasure of Manhattan Island
. He is one of the factory owners and was voiced by the late Richard Karron. 
Mr. O'Bloat is as greedy and corrupt as the other factory owners, but, unlike Mr. Grasping and Mr. Toplofty, O'Bloat appears to be somewhat dim-witted and he is also a coward. Alongside the other factory owners, he too see's Papa as a troublemaker. He is also always seen eating cheese. When he heard about the Indians, he seems to be scared as he thinks that they are savages who is going to invade them. 
When Papa announces to the mice that the Indians mean no harm and the factory owners are the true enemies, O'Bloat begins to freak out as he is worried that the Indians will send reinforcements, form an alliance with the workers and, eventually, take over the factory.
Gallery