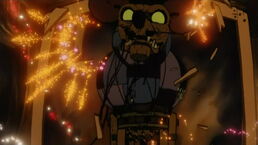 The Giant Mouse of Minsk is a fictional mouse from the An American Tail series.
The Giant Mouse of Minsk is only mentioned in An American Tail. At the beginning of the film, Papa Mousekewitz tells of the legend of the Giant Mouse of Minsk and claims that it is a mouse that was as tall as a tree and had a mile-long tail. Though the real Mouse of Minsk is never actually seen, a mechanical version of the mouse is made by the mice of New York, an effort led by Gussie Mausheimer and Honest John. It is built out of things that they found in The Digitalis Museum. The Mouse of Minsk was then used as the mice's "secret weapon": a mechanical mouse equipped with 4th of July firecrackers and colorful rockets. It sends the Mott Street Maulers running away and onto a tramp steamer bound for Hong Kong and ends up at the bottom of the waters around Chelsea Pier. It's legend is apparently well-known, as Warren and Digit were well aware of it before being driven off the pier.
Community content is available under
CC-BY-SA
unless otherwise noted.