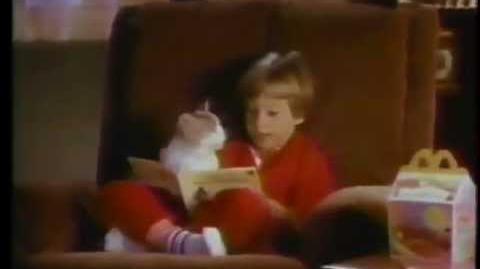 From 1986 through early 1987, McDonald's had a special An American Tail merchandising deal with Universal and Don Bluth, mainly known for two items: An American Tail Christmas stockings, and a series of small picture books.
Christmas Stockings
The Christmas stockings were available with the purchase of a five dollar book of McDonald's coupons, and featured embroidered pictures of Fievel on the front. As Fievel and his family are Jewish, this promotion stirred some controversy with Jewish groups such as the Anti-Defamation League, for obvious reasons. Jewish children were none too happy about the promotion either, and the complaining actually caused McDonald's to issue an official apology and re-do its commercial, focusing instead on the picture books. The packaging referred to the stockings as an "ornament", perhaps leaving out the word "Christmas" due to the controversy.
Picture Books
See also: An American Tail: The Storybook
The four different picture books were illustrated by Bluth's character designer John Pomeroy, containing excerpts from the novelization of the movie. As such they are based on an earlier version of the script and differ from the movie somewhat. The books were titled "FIevel's Boat Ride" "Tony and Fievel", "Fievel's Friends" and "Fievel and Tiger".
Happy Meal Boxes
The boxes themselves featured little games for children to play, jokes, bookmarks, and finger puppets of the characters that could be cut out. They also had coupons for a Fievel plush from Sears.
References: