This is a run-down of the home video releases of the four An American Tail films and Fievel's American Tails.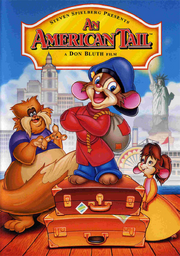 VHS, Betamax and LaserDisc Releases
The film was released on VHS, Betamax and LaserDisc in 1987 by MCA Home Video in the US, and in other countries by CIC Video, with a Spanish dubbed version separately released on VHS as Un cuento americano (translating to An American Tale, dropping the pun inherent in the English title), in full screen to fit the TV screens of the time. It was originally sold at $29.95, as VHS tapes were quite expensive at the time. It was released again in 1991 on VHS and LaserDisc ahead of the theatrical debut of An American Tail: Fievel Goes West, with no changes from the original release, save for a trailer for the sequel (which inadvertently spoils the ending of the very film it precedes). In 1998, to promote the forthcoming direct-to-video sequels, both An American Tail and its sequel An American Tail: Fievel Goes West were digitally restored and re-released on VHS in Disney-style clamshell cases. This was when Universal began using an alternate cover for the film, which many regard as inferior to Drew Strewzan's original cover, as the characters are off-model (Tanya appears as she does in the sequel) and the film is falsely made to look more bright and cheerful than it actually is. This cover would be used until 2015.
DVD release
The film was released on DVD in 2004, and had some notable changes from the theatrical and previous home video releases, such as added lines of dialog, and additional (mostly cartoony) sound effects. These include: the Cossack Cat in the snow sounding like a train, the ocean waves making moaning sounds, the original dialog "Apples anyone?" said by the mouse seller being cut out, the woman screaming "Ahh it's a mouse Ahh!" being changed to "Oh my word! A mouse!" (with more women screaming in the background) when Fievel was running on the phonograph followed by two townpeople asking "What's going on up there?" in the background when Fievel falls after being hit by a vase, Jake and Tiger of the Mott Street Maulers talking in the sewers before showing Fievel crying in the cage, an extra line from Warren as his ship sails to Hong Kong, and the voices of two of The Bullying Orphans were re-dubbed by different voice actors. Some changes were seen as positive (such as the previously cut dialog) but most were disliked by fans. The extras on the DVD were also lack-luster, meant for very young children.
In between it's initial release on DVD and the Blu-Ray release, An American Tail was often included in combination packs with other animated films owned by Universal Studios, sometimes including its sequel. Both films are also included on a combination pack DVD with the last two sequels, which was released on June 13, 2017.[1] That release marked the first widescreen debut of the first two films on a Region 1 DVD.
Blu-Ray Release
On March 4, 2014 it was released on Blu-Ray; for the first time the film was presented in it's original 1:85:1 theatrical widescreen aspect ratio, however, many fans were disappointed with its lack of new extras, use of the same cover, and the same unnecessary audio additions and voice changes that the DVD had, except this time, a half of second of each fade into black parts (as going to the next scene) are trimmed and part of the film's end credits music score was used in a double high pitch (due to time constrictions). A year after the release, a new minimalist cover for both the Blu-Ray and the DVD was created in 2015, featuring only Fievel's face against an orange background, with the same open-mouthed grin from the 1998 cover. There is also an error on it; the bill of his hat behind his head was colored blue instead of black.This came during a growing trend for animated films in general only featuring the main character's face on their DVD or Blu-Ray cover, probably brought on by Netflix and Amazon.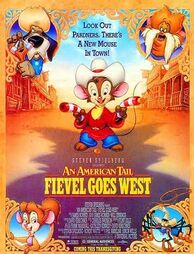 This film was released on VHS and LaserDisc in 1992, with the LaserDisc edition including a widescreen letterbox release with the original theatrical aspect ratio. In 1998, An American Tail: Fievel Goes West was digitally restored along with the first film and re-released in a clamshell case, with a slightly altered front cover; though the cover does not differ from the original as drastically as does the first film's new cover from its original. This new cover has been used in every release since. The film was released on DVD in 2004, a bare-bones release with only a few children's games as extras. Since has been included in combination DVD sets with the first film and with other animated movies owned by Universal Studios. Unlike the first film, it was largely unaltered from its original theatrical release until it was eventually released on Blu-ray as a Walmart exclusive on April 4, 2017[2] (followed by a nationwide release on July 4, 2017), when it was remastered for high-definition picture quality and removed the hidden doodle drawing during Tanya's version of Dreams to Dream, due to a controversy.[3] Prior to that release, the film was re-released on DVD in January 2017 and its cover was finally given the same treatment as the first film, featuring only Fievel's face against a light blue background.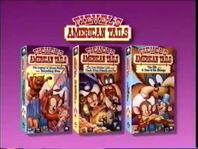 The short-lived television series was released in 1993 and 1994 in the United States, but thus far has not had a DVD release there. However, it has been released on DVD in Europe. MCA/Universal Home Video released eight episodes on four VHS videocassettes and two Laserdisc volumes. These have been the only home video release of the cartoon in the United States; episodes such as "Little Mouse on the Prairie" have seen no release whatsoever in North America. In the United Kingdom, the 13-episode series was released on six videocassettes in 1995. Episodes have been released on DVD in France, Germany, and Italy. Universal currently has no plans to release the show on DVD in the United States. To date, the western videocassettes are the only traces of the show's existence in its country of origin.
This was a direct-to-video film, released on VHS first in the United States on February 15, 2000, after being consequently put on hold for couple years due to difficult reasons. Since then it has also been released on DVD in 2004 with no changes to the cover art or content. The DVD includes some games for children and a sing along version of Anywhere in Your Dreams, without any background noises or dialog. The film was sometimes included in combination packs with other animated films owned by Universal Studios, partially including the last sequel.
This was also a direct-to-video film. It was first released on July 25, 2000 in the USA. It has since been released on DVD in 2004, also with the same cover art and unaltered from its original format. It includes children's games and a sing along version of Who Will.
Gallery