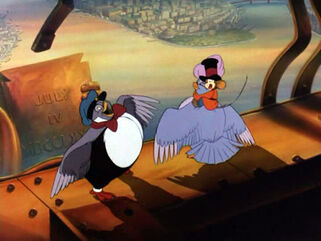 Henri is an optimistic French pigeon who appeared in An American Tail, and has a brief non-speaking cameo in The Treasure of Manhattan Island. He was voiced by Christopher Plummer.
Description
Henri is a pigeon from France, who finds Fievel when he washes up onto Ellis Island in a bottle. He takes care of Fievel, giving him a bath and giving him hope that he can find his family, telling him " Never say never" by singing a song. Fievel takes this message to heart. Henri lives among a few colorful female pigeons, and is very passionate about the statue he claims to be working on: the Statue of Liberty. One of his fellow pigeons was the one who dropped Fievel right at Warren's office, whether or not this was simply a coincidence is unknown. He appears again at the end of the film after Fievel has found his family. Fievel and Tanya ride on his back as he shows off his newly finished statue, and when Fievel asks if he can go see more of America, he offers up that sequel-promising line, "Someday, you will!". He is briefly seen during a montage in The Treasure of Manhattan Island, giving Fievel, Tony, Tanya and Cholena a flight across New York harbor.
Trivia
Henri was originally to be a grumpier, scruffy looking pigeon named Bobo, who appears in some of the old storyboards. He appears to get angry at Fievel for landing on "his side" of the island. Steven Spielberg wanted to remove the character but Don Bluth fought to keep him, and instead the character was retooled into Henri.
Gallery
You can find Henri gallery here.
Community content is available under
CC-BY-SA
unless otherwise noted.