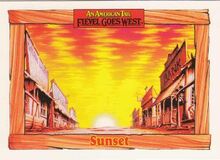 Green River is a sleepy old town in the west, surrounded by desert. Cat R. Waul lures mice from New York there in An American Tail: Fievel Goes West as part of his evil scheme to eat them. The town is nearly a ghost town by the time the Mousekewitz family arrives by train. It is implied in both the film and in Fievel's American Tails to have been an old mining boom town, but the mines have since dried up. There are still some humans living there, but they are blissfully unaware of the clothed talking animals living among them. Green River's sheriff is Wylie Burp. 
Locations in Green River
Waul's Kit-Kat Saloon (in the basement of a human saloon)
The water tower
Mousekewitz Fine Violins
Mr. Ironside's Schoolhouse (Fievel's American Tails)
Abandoned mines
Mr. Schimmel's General Store (Fievel's American Tails)
Jeremiah's mine (Fievel's American Tails)
Grizzly Gulch (Fievel's American Tails)
Bank
Courthouse
Funeral Parlor
Trivia
Green River is a real town in Utah , and probably the basis for the Green River in Fievel Goes West.