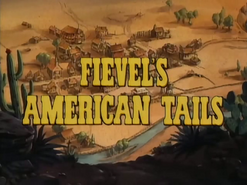 Fievel's American Tails is an American/Canadian animated television series, produced by Steven Spielberg's Amblimation animation studio, Nelvana, and Universal Cartoon Studios.
Release history
The show aired for one season in 1992, and continued Fievel's adventures from the film An American Tail: Fievel Goes West (1991).
In 1993 and 1994, MCA/Universal Home Video released twelve of the thirteen episodes on six VHS tapes and eight on two Laserdisc volumes. These have been the only home video release of the cartoon in the United States. In the United Kingdom, the 13-episode series was released on six video-cassettes in 1995, which enabled the full series to surface on the internet in English a decade or so later. Episodes have been released on DVD in France, Germany, and Italy, as Universal abruptly abandoned further media reissues after the release of the DTV movies since the late 1990s. At the end of each episode, Fievel, who is the national "spokesmouse" for the Reading Is Fundamental Foundation, did a "Reading Buddy" spot to encourage children to read. These PSAs were not preserved on the VHS releases and may be considered lost, only existing through surviving TV recordings.
In Russia, the cartoon, dubbed in Russian but retaining the original English titles and names, was broadcast on First Channel Russian Television (Russian: ОРТ) in summer 1996 with Woody Woodpecker. Repeat airings were broadcast in Spring 2002 and Winter 2005.
In 2020, NBCUniversal regained rights to the series and it was announced that it would be included on their streaming service Peacock, making the series available in the US for the first time in decades.
Don Bluth, the director of the original American Tail film, had no involvement with the series. Phillip Glasser and Dom DeLuise were the only two actors from the original film to reprise their roles, as Fievel and Tiger respectively. Cathy Cavadini, however, did reprise the role as Tanya, whom she voiced in the second film, taking over the role from Amy Green.
Episode list
13 half-hour episodes were produced: season 1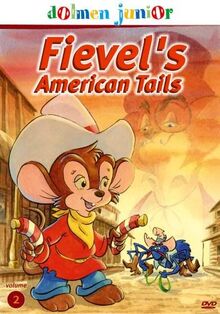 Cast
See Cast
Characters
Trivia
This series has only appeared on VHS in the United States and UK, while there have been DVD releases in France, Germany, and Italy. Since the release of the DTV sequels in the late 1990s, Universal abruptly abandoned this show from further home media reissues until it was recovered by NBCUniversal in 2020 and have it available to stream on Peacock in the future.
Three notable characters are written out from this show:

Wylie Burp was written out due to his voice actor, James Steward, retired from voice acting, five years prior to his death.
Tony Toponi was written out due to his voice actress Pat Musick had some personal issues involving her then-current parenting with her daughter Mae Whitman (who was 3-4 years old at the time), as she rarely did any work during that period, with the exception of doing voices for couple episodes of Batman: The Animated Series.
Bridget was written out as her voice actress, Cathianne Blore, chose not to do the part in the series.

This is the final An American Tail media Phillip Glasser voiced Fievel Mousekewitz due to the changing of his voice by age, as further production of the franchise was put in hiatus until a half of decade later when Thomas Dekker took over the voice for Fievel.
An American Tail is the only Bluthless franchise to feature Simpsons legend Dan Castellaneta and Powerpuff Girls legend Cathy Cavadini.
Credits
Executive Producer
Steven Spielberg
Production Executives
Frank Marshall
Kathleen Kennedy
Executive Production Consultant
David Kirschner
Created by
David Kirschner
Executive Story Editors
Hank Saroyan
J.R. Young
Story Editors
Sam Graham
Chris Hubbell
Produced by
Michael Hirsh
Patrick Loubert
Clive A. Smith
Supervising Producer
Stephen Hodgins
Line Producer
Peter Hudecki
Directed by
Lawrence Zelig Jacobs
Assistant Director
Paul Riley
Voice Director
Kelly Ward
Casting
Maria Estrada
Production Supervisor
Steve Chadwick
Production Manager
Ruta Cube
Unit Director
Claude Chiasson
Production Coordinators
Jocelyn Hamilton
Mike DeMonna
Martina Moody
Designers
Frank Nissen
Charles E. Bastien
Chuck Gammage
Ross Campbell
Joe Goesslin
Robert Walton
Patrick Rowsome
Blayne Burnside
Steven K. Manning
Stephen Wood
Posers
Lynn Reist
David Boudreau
Alan Knappett
Design Coordinator
Patty Beausoleil
Layout Supervisor
Tony Tarantini
Layouts
Dale DesRochers
Ron Wilson
Chris Minz
Rob Sadler
Chad Hicks
Frank Ramirez
Brad Markewitz
Michel Daze
Storyboard
Bob Smith
Raymond Jafelice
John Yee
John Flagg
Vince Natali
Andrea Robbins
Storyboard Cleanup Supervisor
Dave Quensnelle
Color Designer
Rebecca Barclay
Paint Supervisor
Mary Bertoia
Backgrounds
Kellie Jobson
Theme Song Written and Performed by
Hank Saroyan
Robert Irving
Music by
Milan Kymlicka
Supervising Editor
Rob Kirkpatrick
Post Production Manager
Lan Lamon
Supervising Sound Editor
Steve Cole
Picture Editors
Richard Bond
Karen Saunders
Evan Landis
Peter Riley
Supervising Pre-Production Editor
Darrell MacDonald
Supervising Breakdown Editor
Rick Dubiel
Recording and Transfer Technians
Mike Reid
Richard Stobiel
Additional Production Facilities
Wang Film Production Co. Ltd.
Bardel Animation Ltd.
The Hollywood Cartoon Company
Negative Cutting Services
Catherine Rankin Productions
Laboratory Services
Command Post and Transfer Corporation
Access Post Production Audio Inc.
The Filmhouse Group
Gallery
External links
Community content is available under
CC-BY-SA
unless otherwise noted.