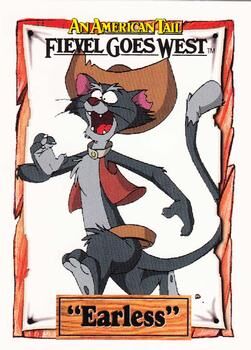 Felonius "Earless" Poultroon is a member of the Cactus Cat Gang in An American Tail: Fievel Goes West, who reappears in Fievel's American Tails as a member of Sweet William's gang, along with Slim. Felonius is only referred to as "Earless" Poultroon in the An American Tail Trading Cards, where it is said that he lost part of his ear in a fight with a dog. One might assume his nickname had been "Fearless" before then. But in Fievel's American Tails this name is never used, and in model sheets he is called Felonius.
Felonius' fur is gray in the film, but is turned blue in the TV series. He speaks with a deep southern accent and is portrayed as not very bright. He is however ruthless; in "Babysitting Blues", for example, even after Sweet William decided Yasha was too cute for him to eat, Felonius and Slim still wanted to devour her.
Trivia
Earless shares his name with a feline character with the same name, in the book, The Secret World of Og by Pierre Berton.
Gallery