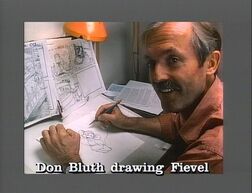 Directed: An American Tail
Born:September 13, 1937
Other Works: Banjo the Woodpile Cat, The Secret of NIMH, The Land Before Time, All Dogs Go to Heaven, Rock-a-Doodle, Thumbelina, A Troll in Central Park, The Pebble and the Penguin, Anastasia, Titan AE
Bio
Don Bluth was born in El Paso, Texas, the son of Emaline (n`ee Pratt) and Virgil Ronceal Bluth. He is known to be directed several films especially joined forces with Steven Spielberg. He is a former Walt Disney Animation Studios employee along with Gary Goldman & John Pomeroy. Before he started directing, his first animation contribution was as an assistant on Sleeping Beauty. He would also assist on The Sword in the Stone, and would take a brief foray into TV projects (on such fare as Filmation's Will the Real Jerry Lewis Please Sit Down? and Sabrina and The Groovie Goolies) before returning to Disney for Robin Hood in 1973. He also animated sequences in The Many Adventures of Winnie the Pooh (most notably, the scene where Rabbit is lost in the woods). But after working on things like Pete's Dragon, he became disillusioned with the direction in which Disney seemed to be going without Walt. While in mid-production of The Fox and the Hound, he and a few animator friends struck out on their own to form their own independent studio. He has his first directing job on the 1982's The Secret of the NIMH. He joined forces with David Kirschner and Steven Spielberg for 1986's An American Tail.
Bluth films are well-known for gorgeous character and effects animation and for a strong sense of fairy tale storytelling — and all that entails. His films tend to be darker (thematically and literally) than the standard Disney fare.
Their goal was to remind Disney, and people in general, what painstakingly attentive hand-drawn animation could do. For a considerable amount of time, film-goers liked his films better than the movies Disney was putting out in the '80s. Miffed by the competition, Disney started treating their own animated films more seriously. His films couldn't compete with Disney's juggernaut hits in the early 1990's, and were lost in the overcrowded "all the animation that isn't by Disney" market.
In recent years, Bluth has slowed down quite a bit, though it may be premature to call him retired. He now resides in Scottsdale, Arizona, where he directs plays in his own theater, the Don Bluth Front Row Theater, and where he teaches animation classes from time to time. He is currently working on a crowd-funded film adaptation of his 1980's video game Dragon's Lair.