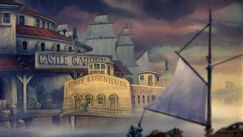 Castle Garden is where immigrants to the United States going through New York from 1855 to 1890 were registered, before Ellis Island became the primary immigration station. It is a location in An American Tail
In An American Tail
Castle Garden is where we first see humans being registered as immigrants, and later it cuts to a smaller area underground where immigrant mice are undergoing a similar process, having their names changed to sound less foreign. Here Tanya's name is changed to Tilly (a name that is never used in the sequels). Papa at first gives his family size as five, but tearfully corrects himself and says four because he thinks Fievel is dead.
Fievel himself never gets registered, making him an illegal immigrant; not that it mattered as much in those days. Fievel was supposed to be taken to Castle Garden by one of Henri's birds to find his family, but she takes him to Warren T. Rat instead.
Community content is available under
CC-BY-SA
unless otherwise noted.