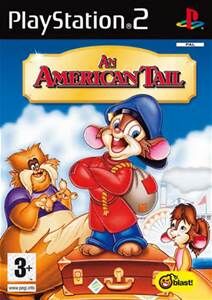 An American Tail the Video Game was released for the Playstation 2 console in 2007, only in Europe, developed by Data Design Interactive, who secured the rights from Universal to make the game. It's a relatively rare game, that ironically was never released in America. It is based on the first An American Tail movie.
Summary
"Fievel Mousekewitz and his family have left their home in Russia for a new life in America, but when a storm hits their ship bound for New York, Fievel ends up getting separated. Feeling lost, alone and very scared is only the start of Fievel's problems. New York City is teeming with big cats who love to prey on mice. Can you help Fievel defeat the feline foes and find his family? Help the little mouse out in this platform action game based on the ever popular movie." -IGN.com
Features
6 HUGE MISSIONS! Steer Fievel inside a bubble, hitch a ride on the back of a pigeon, and escape from cats aboard a roller skate!
RELIVE THE MOVIE! See the thrilling story unfold through classic clips from the animated movie!
4 BONUS LEVELS! Unlock extra missions to further test your skills – can you collect all the gold stars in each level!
Gameplay
Gallery