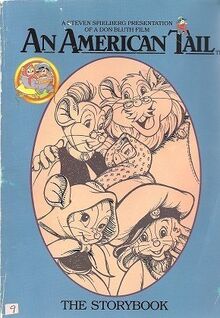 An American Tail: The Storybook (or alternately, "The Illustrated Story"), was the novelization of An American Tail, written by Emily Pearl Kingsley and released in September 1986 to promote the film. The book is fully illustrated by David Kirschner (the creator of An American Tail), Beverly Lazor-Bahr and Christine Finn, and follows the basic plot of the film, with a few minor differences, most notably with extended scenes not included in the final film. A color edition was also released with different illustrations, though the text itself was identical.
To promote An American Tail, short booklets with excerpts from the novelization were given away at McDonald's with children's Happy Meals.
Trivia
The book features scenes that were known to have been cut from the film version, such as Fievel being trapped at Moe's Sweatshop for several days and devising a slightly different escape, Tony searching with Fievel for his family around New York for days before meeting Bridget, and Tiger being stuck in a tree when Tony and Bridget meet the Mousekewitz family.
The book begins with an elderly Fievel telling the story of his trip to America to his great-grandchildren 100 years later, something that was ultimately cut from the film.
Fievel is stated to be seven years old, while Tanya is eight.
In many of the illustrations the characters are not drawn to scale, such as Gussie Mausheimer standing up to Tiger's shoulder.
Community content is available under
CC-BY-SA
unless otherwise noted.