Jurassic World: Dominion Dominates Fandom Wikis - The Loop
Play Sound
An American Tail has been classified as one of the best articles made for the An American Tail Wiki community. Please feel free to contribute.
An American Tail is a 1986 American animated adventure film directed by Don Bluth, produced by Don Bluth, John Pomeroy, and Gary Oldman, and filmed by Universal Studios, Sullivan Bluth Studios and Amblin Entertainment. The film tells the story of Fievel Mouskewitz and his family as they immigrate from Russia to America for freedom. However, Fievel gets lost and must be reunited with his family in the vast city of New York, meeting friends and foes along the way. The film was released on November 21, 1986, and was followed five years later by An American Tail: Fievel Goes West.
Plot
In 1885 Shostka, Russia, the Mousekewitzes — a Russian-Jewish family of mice — decide to immigrate to America after an army of cruel cats that belong to the Cossacks (a reference to actual pogroms occurring in Russia at the time) destroy their village. During the trip overseas, the family's young son, Fievel, gets separated from the others while and washes overboard in a storm, after he decided to see the fish during the terrible weather by throwing his hat on the deck. The Mousekewitz arrives sadly in America, believing they've lost their son.
Fievel, however, floats to America in a bottle, and after a pep talk from a French pigeon named Henri, embarks on a quest to find his family. He is waylaid by conman Warren T. Rat, who gains his trust and then sells him to a sweatshop. He escapes with Tony, a street-smart Italian mouse, and they join up with Bridget, an Irish mouse trying to rouse her fellow mice to stand up to cats. When a gang of some called the Mott Street Maulers attacks a mouse marketplace, the immigrant mice learn that the tales of a no-cat country is not true.
Bridget takes Fievel and Tony to see Honest John, a drunk (but reliable) politician who knows all the voting mice in New York City. But as the Mousekewitzes have not yet registered to vote, he can't help Fievel find them. Meanwhile, his sister, Tanya, tells her gloomy parents she has a feeling that he is still alive, but they urged her that the feeling would soon go away.
Led by the rich and powerful Gussie Mausheimer, the mice hold a rally to decide what to do about the cats. Warren T. Rat is extorting them all for protection that he never provides. No one has any idea what to do about it, until Fievel whispers a plan to Gussie.
The mice take over an abandoned building on Chelsea Pier and begin constructing their plan. On the day of launch, Fievel gets lost and stumbles upon Warren T.'s lair. He discovers that he is actually a cat in disguise and the leader of the Maulers who later capture Fievel. A goofy, soft-hearted orange cat named Tiger takes a liking to a crying Fievel and sets him free.
Fievel races back to the pier with the cats in hot pursuit when Gussie orders the mice to release the secret weapon. A huge mechanical mouse, inspired by the bedtime tales Papa told to Fievel of the "Giant Mouse of Minsk", chases the cats down the pier and into the water. A tramp steamer bound for Hong Kong picks them up and carries them away.
The mice rejoice at this, but it is a pyrrhic victory for Fievel, as he is once again separated from his family. He eventually ends up in Orphan's Alley, where a group of orphans convinces him that his family doesn't care about him (which is only half true, because with the exception of Tanya, they had long presumed him dead). Papa Mouskewitz overhears Bridget and Tony calling out to Fievel, but is sure that there may be another "Fievel" somewhere, until he sees Mama picking up his son's hat. They team up for a final effort to find him, and in the end, Papa's violin playing leads Fievel back into the arms of his family. The journey ends with Henri taking everyone to see his newly completed project — the Statue of Liberty, and the Mouskewitzes' new life in America begins.
Characters
Main article: Cast
The Mousekewitz Family:
Residents of New York:
Mott Street Maulers: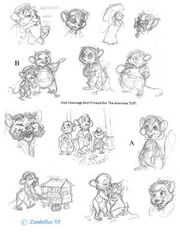 Production
While all of the animal characters were animated from scratch, the human characters were animated using the rotoscoping technique, in which sequences were shot in live action and then traced onto animation cels. This provides a realistic look for human characters, and distinguishes the cartoonish animal characters from the more realistically animated humans. Rotoscoping is frequently employed in Don Bluth films, including The Secret of NIMH and Anastasia.
Music
See Soundtracks.
The musical score for the film was composed by James Horner. The song "Somewhere Out There", composed by Horner and written by Barry Mann and Cynthia Weil, won a Grammy Award. One scene incorporates the John Phillip Sousa march Stars and Stripes Forever. A limited extended version of the soundtrack has been released in 2019 with tracks that were unused from the previous release.
Release
Theatrical
Released on November 21, 1986, An American Tail soon became the most successful animated theatrical release and the highest grossing non-Disney produced animated feature, drawing over $47 million domestically and $84 million worldwide. It was also one of the first animated films to beat a Disney animated feature at the box office, significantly out-grossing The Great Mouse Detective (also released in 1986 but four months earlier) by over $22 million USD. It would later be outgrossed domestically by Bluth's next film, 1988's The Land Before Time, which marginally outperformed Disney's Oliver and Company. Its record for the most successful animated theatrical release stood until 1989, when it was broken by the release of The Little Mermaid, and it remained the highest-grossing non-Disney animated film until surpassed by another Don Bluth film, 1997's Anastasia. The film is sometimes credited for the start of the animation renaissance of the late 1980s and 1990s, as it showed investors and film studios that animated films could still be profitable at a time when the industry was in a slump and Disney legitimately considered closing its animation studio.
Home media
Release dates
USA: November 21, 1986
Canada: November 21, 1986
Argentina: December 25, 1986
Australia: December 26, 1986
Norway: December 31, 1986
France: February 4, 1987
Spain: May 18, 1987
Austria: June 19, 1987
Ireland: June 19, 1987
West Germany: June 19, 1987
Brazil: July 3, 1987
New Zealand: July 10, 1987
UK: July 24, 1987
Soviet Union: July 31, 1987 (video premiere)
Japan: August 1, 1987
Peru: August 13, 1987
Uruguay: September 16, 1987
Denmark: October 16, 1987
Finland: December 11, 1987
Sweden: December 11, 1987
Portugal: December 18, 1987
Italy: December 22, 1987
West Germany: March 19, 1988 (video premiere)
Singapore: April 4, 1989
Belize: July 13, 1989
Turkey: October 11, 1990
Hungary: May 10, 1991 (video premiere)
Russia: October 3, 1993
Russia: November 28, 2005 (DVD premiere)
Greece: November 21, 2006 (DVD premiere)
TV Airings
Disney Channel (1996-2002)
Toon Disney (2002-2005)
Cartoon Network
Starz Encore
Starz Kids and Family
Universal Kids (2017)
Freeform (2019)
Streaming
Netflix (2017-2020)
iTunes/Apple TV
Amazon Prime
Reception
An American Tail was a box office success, the first among Universal's animated releases to do so. The film has grossed up to $47 million in the United States and $84 million worldwide.
Currently, An American Tail has a "B" rating at Box Office Mojo. After years of its Rotten Tomatoes score going back and forth between "fresh" and "rotten", it has managed to settle above the line at 70%. Its score among the website "community" is more secure at 84%.[4]
Critically the film received mixed reviews in general, with Siskel and Ebert notably bashing the film on their show, believing that it was too dark and depressing for children to handle. The staff of Halliwell's Film Guide gave it one star out of four. "[This] expensive cartoon feature," they wrote, "[has] not much in the way of narrative interest or indeed humor."[5] This obviously contradicted the public opinion at the time it came out.
Common Sense Media gave it largely positive reviews, as the group stated "This is a heartwarming animated tale about the experience of immigrants coming to America. Told from the perspective of an adorable young mouse, An American Tail should engage kids in an important part of U.S. history.".
Today the film is fairly well-regarded, seen as one of Don Bluth's greatest films, if not quite as acclaimed as The Secret of NIMH. It is fondly remembered among children of the 1980's.
American Film Institute Lists
Sequels and spinoffs
The film was followed by its theatrical sequel An American Tail: Fievel Goes West (1991), the television series Fievel's American Tails, and two direct-to-video sequels: An American Tail: The Treasure of Manhattan Island and An American Tail: The Mystery of the Night Monster, none of which Don Bluth had any involvement with.
Fievel later served as the mascot for Steven Spielberg's Amblimation animation studio, appearing in its production logo. Also, as reported on the official An American Tail website, Fievel has become the mascot for UNICEF as well. There is also a Fievel-themed playground at Universal Studios Florida, featuring a large water slide and many over-sized objects such as books, glasses, cowboy boots, and more. It is the only such playground at any of NBC Universal's theme parks.
Suspected plagiarism
Art Spiegelman suspected Spielberg of plagiarism due to the fact the Jews are depicted as mice in An American Tail just as in Spiegelman's earlier Maus, a metaphor Spiegelman had adopted from Nazi propaganda. Instead of pursuing copyright litigation, Spiegelman opted to beat the movie's release date by convincing his publishers to split Maus into two volumes and publish the first before he even finished the second.
Trivia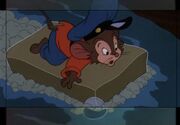 There is some fan criticism with the widescreen format on the Blu-ray release and digital streamings. The film was theatrically released in 1.66:1. When it was digitally released, the frame is cropped further to 1.85:1, loosing more of the masterpiece compared to on the full screen release on VHS and older DVD releases.
As of July 1, 2020, The Secret of NIMH, this film, The Land Before Time, All Dogs Go to Heaven, Rock-a-Doodle, and The Pebble and the Penguin are the only feature-length Don Bluth films not owned by The Walt Disney Company, although Disney still owns international rights for The Pebble and the Penguin under 20th Century Studios.
Gallery
You can find An American Tail gallery here.
Video
References
External links